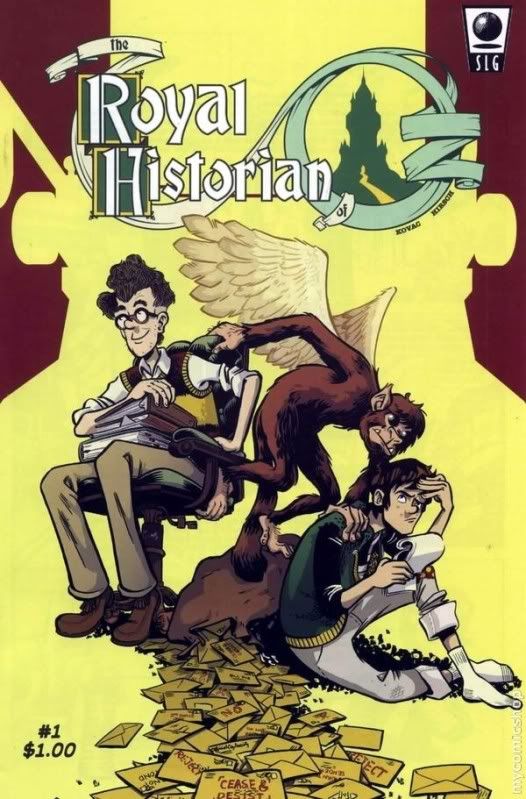 Maybe I'm getting into this one a little late, but here goes!
It's 2050, and Frank Fizzle is fed up. All his father Jasper does is churn out Oz books like "Nervous Nelly in Oz," despite cease and desist notices from the Official Oz Society, who were granted "eternal copyright ownership" to Oz. Frank, however, just wants an attentive father.
Jasper believes Oz exists, and when he finds a mysterious pair of silver shoes at a shop, he feels sure he knows exactly what they are. Jasper disappears for three days, then returns with a wagon filled with artifacts from Oz itself, as well as a few inhabitants, like Zik, a winged monkey, a Scoodler, and one of Jack Pumpkinhead's old heads.
However, Jasper doesn't realize what he's done. Now that Oz and our world have crossed over, there are some serious consequences. Frank winds up in Oz and a beloved Oz citizen is loose in our world and accidentally becomes the conduit for a return of an old and very dangerous enemy.
When I read some reviews, they made it sound like a revisionist version of Oz, but I was delighted to find the characters are mainly in line with Baum's original characters. And even though they're new characters, you feel for Frank and Jasper. I think the Oz fan in all of us easily relates to Jasper, while Frank feels like a real person.
As for the Official Oz Society, after being in Oz fandom for awhile, it is disturbingly easy to see people like this existing. (And personally, I wouldn't mind if there was a standard of quality that Oz books had to meet before publication.) The Society has inevitably been compared to the International Wizard of Oz Club, which, yes, you'll find some people who take Oz as serious business, but there are quite a number who are more open-minded, like Jasper.
Tommy Kovac, as I've already said, manages to keep Oz feeling like it should, with a few really well-done twists, while also keeping the story focused on the stressed relationship between Jasper and Frank. Andy Hirsch's art is cartoonish but manages to complement the writing perfectly, even though his take on the Oz characters varies quite a bit from the original art of Neill and Denslow.
Issues 1-4 are already available and at this writing, should be easy and affordable to pick up. Issue 5, the last issue, will be released in June. I'd also hope that there might be a trade paperback for people who came in late to pick up, but none has been announced.
Order issues from Mile High Comics
Order issues from Midtown Comics
Order issues from My Comic Shop
Order issues from Comic Collector Live!
Order issues on eBay
Order issues 1-4 from the publisher
And Tommy Kovac will also be at the Winkie Convention this year. Looking forward to that!