Oh, hi!
Um, yeah... I didn't blog in about a month. I moved, so there was a bit of upheaval in my life, and having a computer break down on me in January and buying a replacement didn't help speed things up.
Right now, most of my Oz books are in a storage unit a few blocks from here. With the help of some friends, I may be just waiting on a few more Oz books to complete the Oz stories by the Famous Forty's authors. (Well, I have Eloise McGraw's
Rundelstone of Oz
in
Oz-Story 6
. I should probably get a hardcover... Which, yes, David Maxine, I'm sure is very nice...)
I have Neill's
The Wonder City of Oz
and
The Scalawagons of Oz
here, and they're actually first editions, or so the sellers told me. They're both Reilly & Lee editions, and certainly old. I got really good deals on them, though both show some signs of damage. (
Wonder City
's cover is detached. I'm kind of scared to read it much...)
My computer issues were mainly what delayed the podcast last month. I have two podcasts recorded, but they need to be edited. At the time, they were on my old system drive, which was an
old
hard drive that required not just any IDE to USB bridge. However, I found one that worked, so I have access to that data at last.
This week, I decided to finally catch up on Oz comics. I'm ashamed to say the only issue of Marvel's
Ozma of Oz
I bought was the first. Well, actually, I did place an order for #2-4, and it has been billed, so I guess I've bought the rest, I don't just have them in hand yet. I do have Marvel's
Oz Primer
, though.
Also finally ordered
Ozopolis #1
and the first three issues of
Royal Historian of Oz
. And I just finished scouring Springfield's comics shops for a copy of
Fables #101
that Eric Shanower did the artwork for, featuring some Oz characters. (No, I haven't been following with the Oz references in that series. I know there's a lot, but it's a bit much to try to catch up on.) No joy, but one comics shop owner said he'd try to help me out. And if that doesn't work out, then there is eBay...
Still puttering at that Oz novel. I'm on a slow chapter, mainly designed to fill time so two parties will meet up at the right place at the right time. I think I'm almost done with it, and once it's done... We're building to the climax!
That's also not the only Oz writing I've done, but since certain things aren't set in stone yet, I'm not saying much more. When and if it happens, I'll let you know.
Oh, and yesterday, in less than two hours, I made this guy: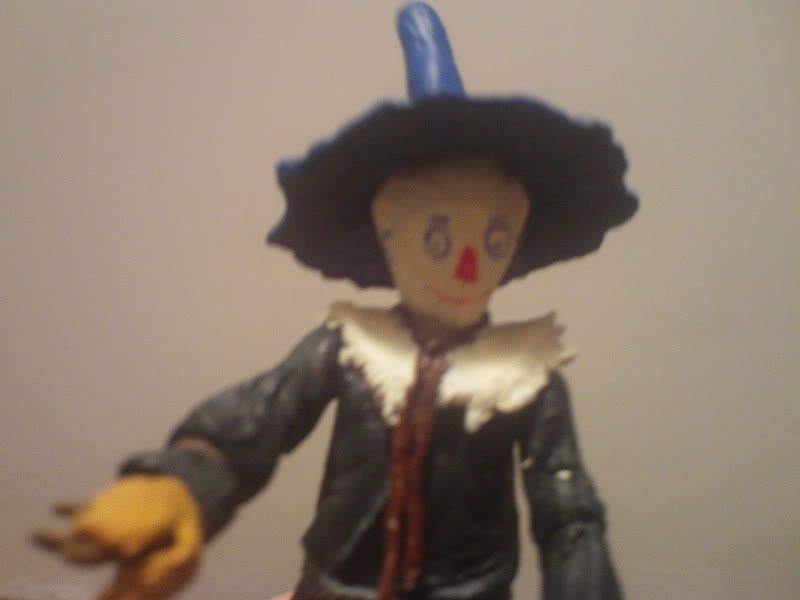 You can read how I made him and how to try your own
here
.
And one last thing: I'm starting to get L. Frank Baum's birthday podcast ready. We're recording "Tiktok and the Nome King" from
Little Wizard Stories of Oz
. If you want to volunteer for a character voice, just send an e-mail to scarecrowandtinman2002@yahoo.com
That it? ... I'll just say that even though my Oz books are in storage, I do have a work-around so that the blogs about the Famous Forty can continue. Thank goodness I hit Thompson's public domain books!