In my last blog, I mentioned the care that was taken in restoring the illustrations for John Dough. Here is the illustration from page 31 that I mentioned...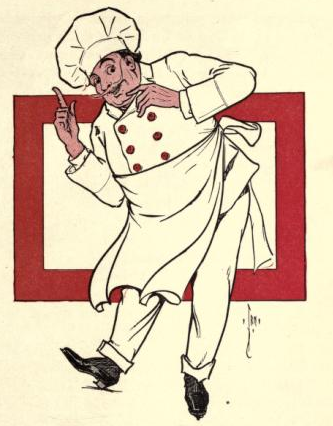 This image is from the original edition. A complete series of color scans can be found at archive.org. Maxine notes the sloppy coloring. It shows...
This is the same image, reproduced in the Dover edition. (Sorry for the very top being cut off in the scanning process. Also sorry for the brown spot, but I had that photo copy for about six or seven years!) This looks like the original version, with every bit of color converted to black.
Finally, here is the Hungry Tiger Press restoration. It looks as if they took it straight from the original Neill artwork, though that, if it still exists, would probably be unavailable.
(Permission to use these scans was not acquired from ANYONE. The actual images is public domain, but Maxine might hold a copyright on the restored artwork.)
As I said, Hungry Tiger Press did a magnificent job of making sure this was the best reprint yet.
One little aside is that back in 2001, I had e-mailed Peter Glassman of Books of Wonder, inquiring if they planned to reprint
John Dough
and Baum's
Queer Visitors from the Marvelous Land of Oz
series. He said they were interested in doing it. Well, now, seven years later, Hungry Tiger Press offers both books... Guess they're in the business of making some Baumophiles' dreams come true...
To close, here is a poster that Dover reprinted in their edition. While they billed it as a piece of Neill's work, Eric Shanower has identified it as a Dick Martin piece for a back cover of a 1960's
Baum Bugle
. (Please excuse the coloring...)