When I got back into Oz, my family got a fancy thing called a computer. It was made by a company called IBM and ran Windows 3.1. We loved it, despite living in the year 2000.
We went to the library and I'd use the internet there to do web searches about things I was interested in. When I got back into Oz, I found
a nifty site that had the texts of the Oz books and some of Baum's Oz-related fantasies
. I downloaded them onto floppy discs (because back in those days, we used those things) and read them on the home computer.
That computer broke down and died in 2001, but we later upgraded to a new machine running Windows XP. Sadly, that old computer was long gone before I discovered I could have retrieved data from the hard drive on it, including some of my earliest Oz artwork. That's right, in Paintbrush (yes, in 3.1 its name was five letters longer) I'd whip up pictures based on the text files I'd read, often inserting them into .WRI files of the texts.
One picture I drew was for
The Magical Monarch of Mo
. It was the Monarch standing by the Milk River. He had a big reddish brown beard and hair and a red royal robe and a crown, while behind him were the lilly pads that grew strawberries. (But remember this was Paintbrush, so they were really ovals of green and red.)
Sometime later, I was looking for Baum books in the library's database and they had a copy of the Dover edition of
The Magical Monarch of Mo
. I checked it out and eventually got my own copy. More recently, I found a copy of the edition illustrated by Evelyn Copelman on Abebooks and picked it up. It was under $15 with the dustjacket. (I get lucky a lot...)
The Suprising Adventures of the Magical Monarch of Mo and His People
was first published in 1900 under the title
A New Wonderland
. It was mainly ignored (there was this book called
The Wonderful Wizard of Oz
that had come out and kinda hogged the spotlight for all things Baum), but in 1903, the book was slightly rewritten and retitled. Originally, it told the adventures of the King of Phunnyland and his subjects. In the new edition, the King became the Monarch and Phunnyland received the snappier name Mo.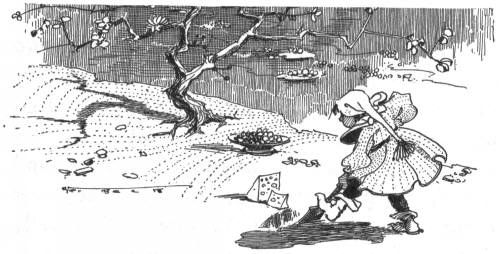 The book was illustrated by Frank Ver Beck, who had done a lot of popular illustration work. His comical work complemented Baum's text quite wonderfully, immersing the reader in the Valley of Mo, being detailed and funny. Oh, and his Purple Dragon: Baum's menace might scare children, but Ver Beck's illustration eases up on the terror.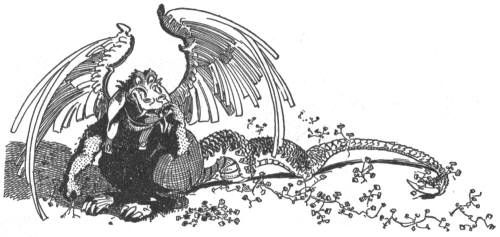 Now to Evelyn Copelman's illustrations.
David Maxine posted several images from her edition with his thoughts on his own blog, so if you want examples, check that out
. (I could scan mine, but I don't want to risk damaging the book.)
I have to agree on many points. While Copelman's illustrations are excellent and detailed, they don't match Baum's text well. When we see a picture of Zingle pushing the Monarch into a hole, it's a far stretch of imagination to think that Zingle is the Monarch's son as there only appears to be a few years difference in their age, if any.
Also, Copelman provided too few illustrations to immerse us in the Valley of Mo. (She had the same thought about her edition of
The Wizard of Oz
when it was re-released and added more illustrations.) We are only shown some characters and the scenes around them, but not much there. I wanted to see her take on Maetta, who appears in my book
The Outsiders from Oz
, but she wasn't there. I also wondered what King Scowleyow would look like and was similarly disappointed.
In addition, her Purple Dragon and Cast Iron Man are far too menacing to really match up with Baum's text. Her Gigaboo is almost too similar to Ver Beck's, but then both do follow Baum's text pretty well.
So, considering that you can't find new editions with Copelman's illustrations but you can get the Dover one with Ver Beck's originals, I'd say you're getting the better illustrator. I kind of wish there was a better edition out there, but until there is, Dover will hold me over.