Well, I got the latest
Baum Bugle
yesterday, and per tradition, here's my look at it...
The colorful cover is a picture from L. Frank Baum's John Dough and the Cherub. This specific picture depicts John, Chick, and Para Bruin and their escape from the Isle of the Mifkets. The original version of the book had the picture colored with black dots and shades of red and yellow. Here, however, it has been produced wonderously as a full-color picture. (Unfortunately, Hungry Tiger Press' new edition will not use color except for the cover, so we will not be seeing a complete collection of beautifully colored illustrations from John Dough soon.)
(Picture from original edition. Taken from scan at http://www.archive.org/details/johndoughthecher00baumrich)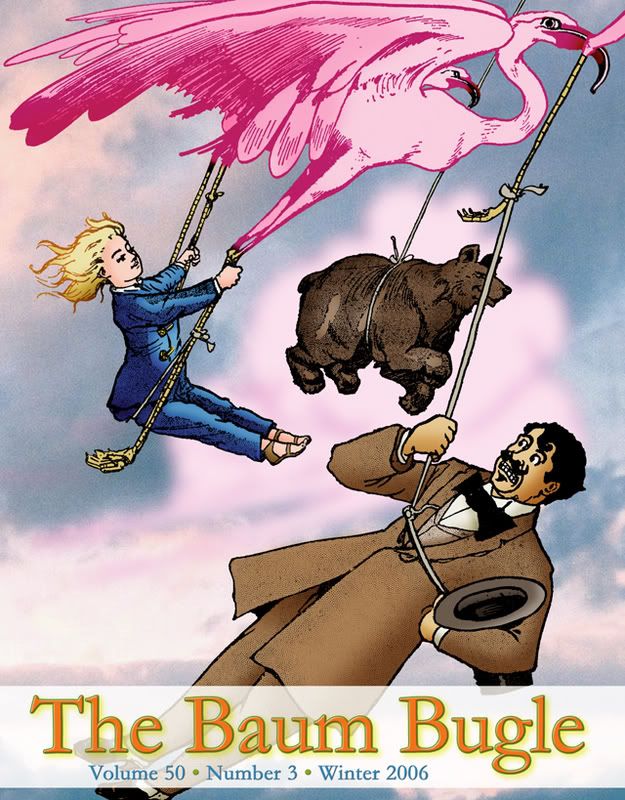 (The picture recolored on the latest Baum Bugle.)
Oz and Ends covers many recent topics, many of which you may already know. Oz Park's new Dorothy statue, the Madame Alexander Happy Meal toys (they mistakenly believed Eric Gjovaag's April Fool's joke!), Chik-fil-A's give away abridgement of Ozma of Oz, Wicked opening in Australia next year, MANY new books, The Sword of Oz e-book, which I looked at last night, two new DVDs, and other news.
J. L. Bell looks at John Dough & The Cherub and does his usual excellent and well-researched job of it. There are also reviews of John Dough from 1906, and Ruth Berman relates how the map of surrounding countries (and oceans and islands) around Oz have changed. Atticus Gannaway relates the possible origins of Ruth Plumly Thompson's Pigasus.
Jane Albright reviews the Your Host, Walt Disney DVD collection, and the books Toto of Oz, the new Discontented Gopher picture book, Roger S. Baum's The Oz Odyssey, Time in Oz, and reprints of two books by the first two Royal Historians of Oz and a translation of Ozma of Oz are reviewed as well.
Tricia Trozzi takes us to the Munchkin Convention, Marcus Mebes lets us know what went down at the first Tex-Oz convention, and Blair Frodelius gives us a peek at the Wonderful Weekend of Oz.
Then we come to something very sad: memoriams for Pete Cerevnak and Mark Haas, two Oz fans who passed away earlier this year.
We also get a few treats: a list of quiz questions (answers in the back, no peeking!), John R. Neill's original pencil sketch for his picture of John Dough, Chick the Cherub and Para Bruin arriving at Ozma's party in The Road to Oz. Also, the 2006 winner of the L. Frank Baum memorial award is revealed. Congratulations, David Moyer!
On the back cover, we see Lau Shu Fan's cover artwork for Opium Book's 1966 reprint of John Dough & the Cherub. It looks a little too cartoonish for my taste, and is no competitor for Neill. BUT, it is nice to see.
If you don't have this, join the Club. Or, if you are a member, hope this has whetted your appetite for it!